Kerr Launches Maxcem Elite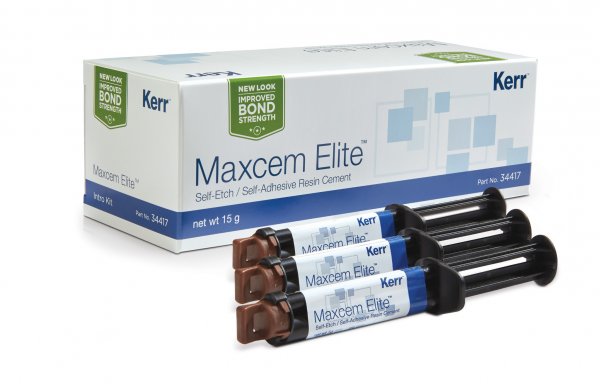 New and improved cement to debut at Chicago Dental Society's 150th Midwinter Meeting
Kerr Corporation, a member of KaVo Kerr Group, is pleased to announce the launch of New and Improved Maxcem™ Elite. For over ten years, Maxcem has been a leader in self-adhesive technology, and this extraordinary new cement gives dental professionals the foundation for building dental success. By offering compatibility with all indirect restorations and unmatched adhesion, Maxcem Elite will continue to be a paramount part of building your practice's success.
New and Improved Maxcem Elite self-etch, self-adhesive resin cement for indirect restorations is simplicity refined — with up to 90% higher bond strength to dentin than the previous formula, predictable handling and exceptional ease-of-use – offering dental professionals best in class adhesion when compared to other leading self-adhesive cements. One-Peel™ cleanup, no hand mixing, and no refrigeration required. 
"One of the most exciting things about the New and Improved Maxcem Elite launch is the way it builds on the strength of the original product and the wider Kerr platform. The ability to deliver 90% greater bond strength to dentin is made possible by optimizing the formula which still utilizes the same adhesive monomer used in Kerr's OptiBond™ family of bonding agents,"
shared Adrienne Collins, Sr. Product Manager for Kerr. "We are constantly exploring new products and product updates in our organization in order to deliver better outcomes for the dental practices who depend on Kerr."
Dentists using the earlier version of Maxcem Elite or those interested in finding a new go-to cement for their practice can see the updated formulation first-hand at the upcoming Chicago Dental Society Midwinter Meeting in Chicago this February. Current Maxcem Elite customers will be transitioned seamlessly over to the updated version of the product when this starts shipping from dealer partners, starting in mid-February. Kerr anticipates the transition will be complete by Q2 of this year.
To learn more about Maxcem Elite, visit kerrdental.com/maxcemelite or call 800-KERR-123.