Kerr Dental Unveils New Website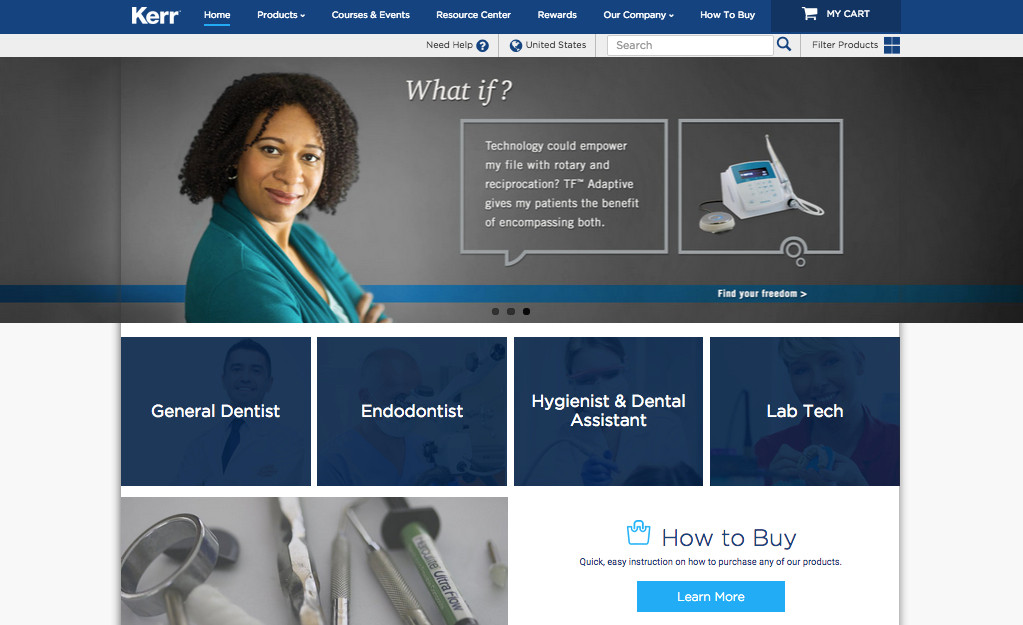 Updated online presence delivers an improved experience for customers and better reflects the newly integrated Kerr platform.
The digital home for the newly unified Kerr - KerrDental.com - is the new go-to site for the entire dental consumables platform, offering an enhanced user experience built on feedback from heavy users, thought leaders and customer care specialists.
New features include simplified, mobile-optimized, intuitive navigation; personalized content for general dentists, endodontists, dental hygienists, dental assistants and laboratory technicians; a redesigned courses and events section that is easier to search with more robust course descriptions; and a new Kerr Loyalty Program that offers members numerous benefits.
The most strategic update is to the site's search functionality. Results are vastly improved, drawing more from relevant content within KerrDental.com instead of generic results from other sources. This, and the streamlined product ordering system — directly connected to distributors — make finding, researching and purchasing the products dental professionals need and want easier than ever.
"As an organization we've come together in spirit, and now we close the loop on who we are via our single most visible communication vehicle: KerrDental.com," said Phil Prentice, Vice President, North American Marketing, Kerr. "More than just improved esthetics or fancy coding, this new site was built around the principle that 'Together, we're more™,' caring more and now, delivering more."
Earlier this year, three of the five professional consumables brands within the KaVo Kerr Group — Kerr, Kerr TotalCare and Axis|SybronEndo —reorganized into a unilateral organization designed to be more collectively meaningful and distinctive in its service to customers. The result is four core identities: Kerr Restoratives, Kerr Endodontics, Kerr Rotary and Kerr TotalCare.
###
About Kerr Corporation
For nearly 125 years, Kerr has been serving the comprehensive needs of the entire dental care community in pursuit of enhancing oral health.  Individual Kerr brands are encompassed within the Kerr Restoratives, Kerr Endodontics, Kerr Rotary, and Kerr TotalCare platforms. By providing best-in-class, patient-based solutions, we believe that in partnership with those we serve - "Together we're more."
Visit us at www.kerrdental.com or call 800-KERR123.
About KaVo Kerr Group
KaVo Kerr Group is a global portfolio of leading dental brands that share common values of Trust, Experience, Choices, Quality and Smart Innovation. Brands include KaVo, Kerr, Kerr Total Care, Pentron, Orascoptic, Pelton & Crane, Marus, Gendex, DEXIS, Instrumentarium, SOREDEX, i-CAT, NOMAD, Implant Direct, DUX Dental and Ormco. With over 500 years of combined experience and proven solutions, KaVo Kerr Group uniquely serves 99% of all dental practices. Visit www.kavokerrgroup.com for more information.